Heavy Duty Towing Ludington, US-31, Western MI Heavy Truck Towing
Ludington MI heavy towing company, Quinn's Towing provides 24hr heavy duty truck towing services in Ludington, Pentwater, Shelby, Hart, on US-31 and US-10, and throughout Western Michigan. Our fast response heavy towing operators are Traffic Incident Management (TIM) and Wreckmaster Certified and have the knowledge to tow and recover your asset as quickly as safety allows ensuring you're back on the road ASAP. With a fleet of multiple heavy wreckers and recovery vehicles, we have trucks and tools needed to get the job done. Call our 24hr Heavy Duty Towing Dispatch Line at 231-757-9262.
Our heavy duty towing services include:
Semi-Truck Towing
24hr Heavy Towing
Work Truck Towing
Tractor-Trailer Towing
Box Truck Towing
Cement Mixer Towing
RV Towing
Bus Towing
Construction Equipment Towing
Utility Truck Towing
Local Truck Towing
Medium Duty Towing
Long Distance Truck Towing
Delivery Truck Towing
5th Wheel Trailer Towing
Coach & Motor Home Towing
Semi-Trailer Towing
City Bus Towing
Effective heavy towing service requires experience and local knowledge to ensure your truck is towed safely along approved roadways and highways – Quinn's Towing has that knowledge and experience. To ensure the highest quality of customer service, we have dispatchers available to assist you 24 hours a day, 7 days a week, 365 day out of the year. For all your emergency heavy towing needs, we will provide you with reliable service you can trust at prices you can afford.
Work Truck Towing & Medium Duty Towing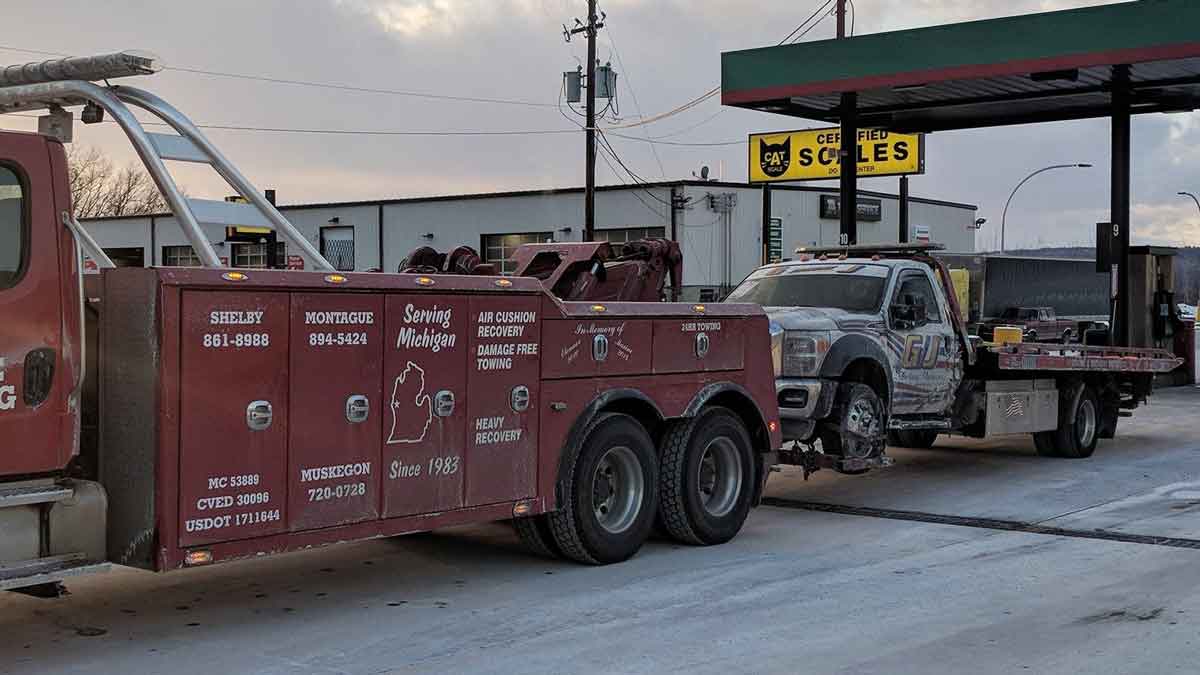 Ludington MI work truck towing company, Quinn's Towing provides medium duty towing, work truck towing, box truck towing, delivery truck towing, and more in Ludington, Pentwater, Scottville and on US-31 and US-10 in Western Michigan. Our work truck towing experts are ready to respond to your medium duty towing needs. We regularly provide work truck towing for landscape trucks, box trucks, truck & trailers and more. Call our 24hr Medium Duty Towing Dispatch Line at 231-757-9262.
RV, Bus, & Motor Home Towing
Bus towing and RV towing company, Quinn's Towing is your source for experienced and professional RV towing and bus towing in Ludington MI, Pentwater and throughout Mason County, Oceana County and Western MI. We understand how delicate RV and bus bumpers and skirting can be and take great care to safely tow all RVs, buses and motor coaches. Our trained team of heavy towing operators have towing experience with all brands of large RVs and will provide the best possible service for your vehicle. The heavy towing team at Quinn's Towing is your trusted choice for RV towing and motor home towing. Call our 24hr dispatch center now at 231-757-9262 to get us working for you.
Heavy Duty Towing & Medium Duty Towing Service Area
Quinn's Towing provides 24hr heavy truck towing in Ludington, Pentwater, Shelby, Hart and on US-31 and US-10 throughout Mason County and Oceana County, including the following cities and towns:
Baldwin
Bitely
Branch Township
Brohman
Crystal Valley
Custer
Elbridge
Foutain
Free Soil
Hart
Hesperia
Ludington
New Era
Peacock
Pentwater
Pere Marquette Charter Twp
Rothbury
Sauble
Scottville
Shelby
Stronach
Woodland Park